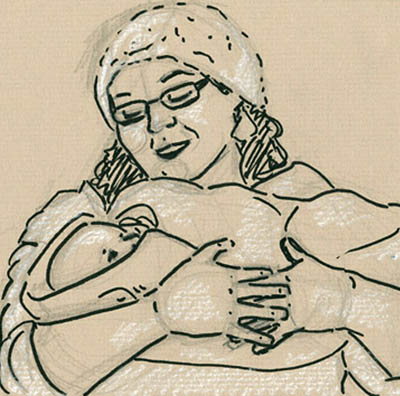 Holding my nephew on my wedding day.
Artwork by Megan Eckman.
"Minna, your voice," they kept telling me, "it's so soothing."
Soothing?!? Ugh. I didn't want my voice to be soothing. I wanted it to jolt people awake. I wanted my voice to be earth shaking, motivating, impressive, passion-filled, inspiring.
But "soothing?" I always thought soothing was: milquetoast, needy, childish, pablum, easy listening, escapist, numbing, and bland.
But there comes a time to listen to what others hear in us, to what others truly need from us.
There comes a time to claim the gifts that are ours to give not because they are what we wish we could give but because they are all we have. There comes a time to recognize that what we are most afraid to be is simply who we have always been.
Owning the comfort that my songs have the potential to give teaches me about what soothing is in its essence.
True soothing is what allows us to stay open-hearted and vulnerable in the face of life's challenges.
True soothing lets us walk through panic and anxiety by taking just the very next step and then the next. True soothing awakens our deepest dreams and gives them permission to live. True soothing liberates the stuck-most soul.
Ready to welcome more soothing into your life?
Curious about other expressions of my work in the world (albums, voice lessons in a spiritual context, songwriting workshops, oh my!)? Visit minnabromberg.com